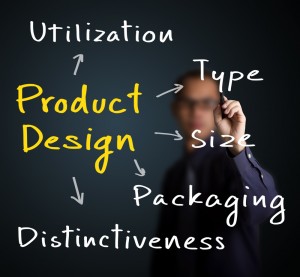 It's a proven fact that consumers are much more attracted to products that are beautifully packaged than those that are roughly cobbled together.  Although a nice-looking logo does go a long way in marketing a brand, nothing seals the deal like a package that consists of high-quality materials and a crisp design.  There is an entire industry dedicated to packaging design.  These particular artists are specially trained in this field, and their expertise go beyond standard marketing practices.  Experts agree that there is a whole science behind successful packaging initiatives, regardless of what product is wrapped up inside.  And if there's another thing they've discovered it's that simplicity always sells.  For example, think about the wonderful packaging that envelopes Apple products.  The clean lines and minimalist approach have been praised by consumers around the world.
From the package shape to the materials used, it's all about blending aesthetics and functionality while grabbing the attention of potential buyers early on.
If you've ever been curious about a career in packaging design, there are several schools with dedicated degrees in this field.  Read on for a comprehensive list of the best places to achieve an education in this unique industry.
Humber College
With an impressive employment rate of 94%, it's no surprise that Humber College offers one of the most popular programs in Package and Graphic Design.  The advanced diploma program is spread out over three years and covers all angles of packaging including design, manufacturing and marketing.  Students particularly enjoy the school's courses on 3D packaging, resource management and the program's strong emphasis on environmental sustainability.
During semester six, the college works individually with each student to arrange an internship.  Humber has a strong industrial partnership with the Packaging Association of Canada (PAC) and the Association of Independent Corrugated Converters (AICC).
Durham College
The packaging design program at Durham College takes a much more basic approach, but still offers one of the best programs in the country.  Students are introduced to various angles of packaging, which include marketing issues, legal concerns and design aesthetics.
The school's Graphic Design program is also available for students looking to expand their knowledge.  This program is a great option because it combines aspects of packaging design into its course curriculum.
PAC Certificate Program
This program, put out by the Packaging Association of Canada (PAC), is perfect for those of you who already have an educational background in design.  Working professionals particularly like this program because it can be customized to fit your weekly schedule.  Participants are required to take four courses, which include knowledge in thermoforming, quality management systems and planning a production line.
This certification program is offered in both English and French.  Definitely a way to include yourself in the elite "who's who" of Canada's packaging industry!
Honorable Mentions
Two other top schools for packaging design are Ryerson in Toronto, Ontario and Mohawk College in Hamilton, Ontario.
Recent Posts
Categories
Archives
Feeds