Cosmetic package design has come a long way in recent years with new materials and a more consumer driven product design industry. Thanks to social media, companies have better resources to see what appeals to their customers but also greater challenges in trying to stand out and garner long term customers. Some cosmetic companies are trying dramatic new design ideas to appeal to their customer base.
Bamboo Woman Cosmetics

Featuring a leaf-shaped cap and bamboo shaped body, this line of cosmetic products beautifully evokes its name. This product was designed by SeriesNemo, a Spanish company established in 1991. With a team of professionals covering a wide range of the design industry, they specialize in branding, packaging, and new product design. For more images of the Bamboo Cosmetics Line, click here.



Lumina Cosmetic Line by ShuUemura

The Lumina Cosmetic Line Concept is targeted to mature women over 50. The design, shape, color, and form of the packaging are inspired by the natural mineral ingredients of the product line. Each bottle features a refillable canister to help reduce waste.

Following the artistic approach of ShuUemure, this concept line features premium makeup products that will help create a graceful and confident, natural look for mature women. The silicone caps and glass containers combine ease of use with beautiful, clean designs and the refillable canisters will appeal to eco-conscious customers.

For more photographs of the entire concept line, click here.

Liouguei Soap

In November 2009, the National Cheng Kung University together with the GIDEA Group took part in the Marakot relief project in Liouguei. Their goal was to help local women support their families by producing hand-made soap that could be sold. Speaking to a Taiwanese cultural belief that a person's destiny is recorded on their palm, this soap line uses hands as the central theme. To highlight the homemade craft aspect of the product Japanese inspired packaging featuring calligraphy was used.

This product design won the iF packaging award in 2011. For more information about the design or relief effort, please click here.

The White Company

This design for an herbal range of cosmetics by London-based store The White Company is made by Aloof Design. The simplistic, clean appearance of this line emphasises the purity of the ingredients used. By stripping the design of color and graphics, this design utilizes only the barest minimum of ornamentation for an honest, appealing look.

Capturing Aloof Design's goal to "be bold", this design perfectly evokes the core concept of the product without offering distractions, promises, or assertions. For more images, please click here.

Stop the Water While Using Me!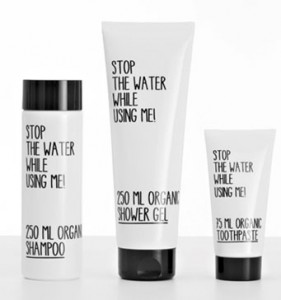 This design takes environmental concerns to the next level by admonishing its users to practice proper water conservation at all times. The bold black and white design and simple message demonstrate a purisitic, ambitious approach and the product text on both sides encourage the consumer to make a contribution to the protection of the environment. By targeting people when they are actively involved in activities that often waste water, the designer, Korefe, hopes to catch them at the perfect time to absorb the message and act upon it.
By recently introducing a travel kit, Stop the Water While Using Me! Is taking its message global. For more information about the product line, click here.
Recent Posts
Categories
Archives
Feeds