Colours matter. When you're trying to send out a message, picking the right colour is important – even more so when you're trying to attract potential buyers to your product.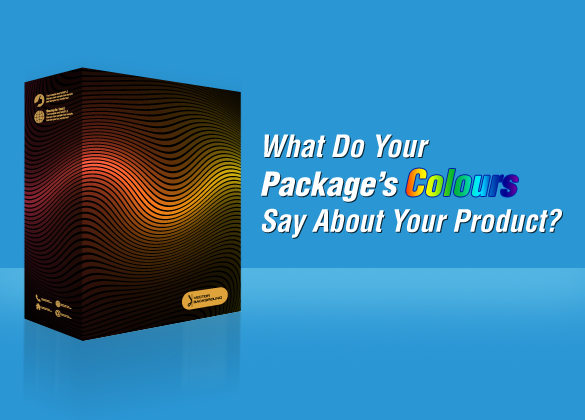 Not many people realize it, but all colours have different psychological connotations. Tailoring the colour scheme and getting the right mix of colours matched to your unique brand message is important, and something the Toronto colour and design experts at Goldrich can help you with!
Here are some quick colour psychology tips for packaging:
White packaging
Think of white as an untouched blank canvas. It sends a message of safety, reliability, purity and simplicity. Mixing additional colours in can modify the message.
Adding red will give the product a look of action or excitement
Yellow gives off the vibe of lightheartedness and fun
Black adds the illusion of sophistication and luxury
Black packaging
Black packaging is best used to showcase authority. Our minds subconsciously associate black packaging with power, control and class.
These are all emotional messages that the color black carries. It helps your product stand out from the crowd, and adds perceived value. Black can serve as a base for other colours, too.
Use gold or silver (the colours of expensive metals) to enhance perceptions of sophistication and luxury
A dash of pink will soften black's sharp edges, making the product more friendly for female customers
To counteract black's seriousness, use brighter colours
Red packaging
Red widely represents action and excitement, energy and strength.
These are some of the positive colour affiliations for red. Simply put, red is the original eye-catcher: a colour our eyes will automatically focus on. It's a stimulating colour that captures and excites potential customers.
Darker reds, meanwhile, carry values of luxury and professionalism, while brighter reds don't carry those same connotations.
A positive colour to mix with red is blue. It's seen as a scheme that has a unique appeal to upper-class buyers. By comparison, mixing red with orange goes a bit more downmarket.
Blue packaging
The colour blue inspires in customers feelings of honesty, reliability and trust. And, not surprisingly for the colour of the ocean, calmness.
But blue isn't a one trick pony. It's been found that darker shades of blue will make the product seen as more conservative and serious, while lighter shades will create the product to be perceived as creative and softer.
One trick colour designers know about blue is that it is a universally friendly colour for both men and women. This makes it the safest colour to use when trying to attract customers to a product.
When designing a package, colour combinations should play as big of a part as the text or images. Think about your ideal audience before you design to ensure your colours are targeting the proper demographic!
Recent Posts
Categories
Archives
Feeds