In the competitive world of the food industry, every advantage counts towards sales, profits, and brand name. Even if your product is backed by the best food scientists or follows time-proven traditions in food manufacturing, your packaging may not live up to the product it contains.
Because consumer psychology has an effect on how customers rate their experience of food, the following companies have put their design teams to work, capturing the attention of their target audience.
Cartoons for Consumers of All Ages
Using cute drawings painted in bright colours is a great way to captivate children, but it turns out that drawings are consumer friendly to all demographics! The manufacturers of wax paper sleeves have printed hatless gnomes on the front of baguette wrappers to accentuate the pointy tips of these popular French pastries. Associating fond childhood memories with enjoyable food makes the experience of buying and consuming the product all around pleasant.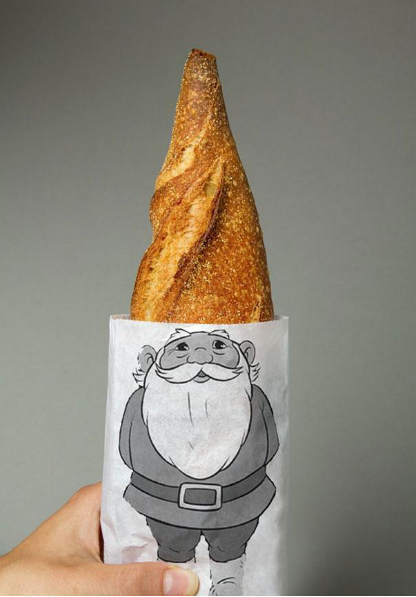 Tapping into Popular Culture for Inspiration
Movies and videogames have created fans of zombies, survival kits, and shaking up the regular daily grind. A particularly comedic company has reached out to the fan base by packaging their caffeinated energy drink to resemble the way human blood is stored and transported:
Clear plastic bag shaped in a rectangle
Parody of a blood type marking on the label
Outlet for a straw, when held upside-down looks like an IV-drip
The company's decision is a bold one, but works for the product's market segment.
Indulging the Stereotype
There is nothing more British than stopping to enjoy afternoon tea, and the makers of Donkey Products are well aware of it! Attached to the tops of tea bags are cardboard cutouts of British royalty with arms outstretched so while your tea steeps in hot water, your favourite royal soaks in your mug. Due to the popularity of the design, the tea bags are also available with other famous world leaders, such as President Obama or Vladimir Putin. It's the dry humour that makes brand and image of the product consistent and outstanding!
Butter for All Occasions
Whipped butter is commonly served in diners, Italian restaurants, and airplanes, usually in a round, disposable plastic container. Butter! Better! uses a thin plastic scraper in place of the foil top that doubles as a knife for spreading. As with any great product, the details takes it from good to great.
Recent Posts
Categories
Archives
Feeds