Protective Face Shields
Medical Device License MDEL Class 1, #11931
For orders of 10,000 or more, please use our information request form.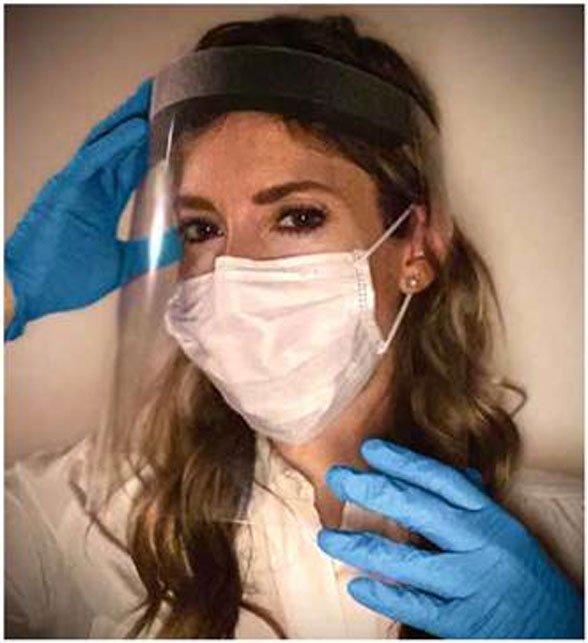 We're here to help.
At Goldrich Printpak Inc., we have retrofitted our factory in response to the COVID-19 issues and shortages Canada is currently enduring. Anything we can do to help, we will. Protective face shield solutions from Goldrich Printpak are suitable for personal or commercial use.
Goldrich Printpak has risen to the challenge of protecting our country, one protective face shield at a time. In such a difficult time we have decided to use our machinery to help get our people back to work safely. As we all know, masks are simply not enough coverage. They must be accompanied by a face shield for a higher level of protection from airborne water particles. Our re-usable face shields are proudly manufactured at our facility in Toronto, Ontario. Goldrich has been a Canadian manufacturer for 3 generations in Canada and we know this is the right thing to do.
This face mask product ships as 2 pieces, face band and face shield. They are shipping as separate components in different boxes and pricing is per set.  We want to be able to supply these face shields super cheap to help the world fight back against this global threat.
By placing a barrier between two people this product is able to add both safety and peace of mind. Wearing a mask together with a face shield is recommended.
Goldrich Face Shield.
Anti-fog PET
Foam comfort strip
Re-usable
Vented for better breathability
High quality, visually clear
Lightweight and easy to wear
Fits comfortably over eyewear, even many dental optical devices
Protects from splashes
24cm high x 36cm wide to shield face
50-64cm to cover most head sizes
Liquid resistant
Head strap is part of the shield for ease of use
Meets all standards for face shields as stated by Health Canada
MDEL Class 1 #11931
CAUTION/RELEASE [READ BEFORE USE]
This face shield product has been approved for use by Health Canada (License No. 11931) It should only be used during the declared COVID-19 public health emergency. It is not intended: i) to prevent specific diseases or infections; ii) for use in any medical, surgical or clinical setting, where infection risk level through inhalation exposure is high. It is intended for use by a single user. By using this face shield product, the user: (i) acknowledges that no warranties of any kind are provided, including with respect to its fitness for any particular purpose; ii) assumes all risk associated with use; and (iii) releases and discharges Goldrich Printpak Inc. from all claims, however caused, relating directly or indirectly to its use. Contact AJ Goldberg at
ajgoldberg@goldpak.com
or by phone at
1-855-838-1821
x331. Please help us get the message out and Protective Face Shields into the hands of those who most need them.